Zinc Nickel Plating Services from Leading Electroplaters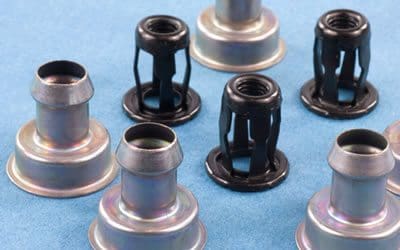 Zinc nickel plating continues to be a favourite for the automotive industry. Here at EC Williams, we have been investing in this plating finish since the 1990s. As a result, we can ensure that we have the most up to date, and advanced barrel lines available. As leading zinc nickel electroplaters we've been leading the way for 15 years in the process.
We have now upgraded to the latest high-efficiency chemistry system which has improved our throughput. Consequently, this has increased our capacity. Naturally, it meets all automotive OEM specifications, as well as offering a range of top coats, lubricants and sealants. These enable corrosion resistance in excess of 1000 hours of zinc nickel plating salt spray hours performance.
Furthermore, the zinc nickel plating finish is being specified by all European manufacturers for under bonnet and under car.
This is because it achieves very high levels of corrosion resistance. It also produces only small amounts of corrosion product. This means sub assembles can be dismantled easily. Therefore, reducing warranty repair costs.
Zinc Nickel Plating Services as Chosen by the Aerospace Industry
We are now also seeing the Aerospace industry move to zinc nickel, as a replacement for Cadmium. The reason for this is that like Cadmium, Zinc Nickel coated components can be fixed to aluminium, without causing a galvanic cell, which would accelerate corrosion. Our black zinc nickel plating on aluminium service offers competitive prices and a fast turnaround.
Related: The Importance Of Electroplating Bolts and Fasteners
We Have a Wide Range of Clients
Many other industries use Zinc nickel plating services too. At EC Williams, we appreciate our wide ranging clients from the rail and power generation industries through to the spring and fastener manufacturers.
All of our zinc nickel coating clients benefit from our extensive range of post plating treatments, including chromate passivates. These passivates are available in both trivalent clear and trivalent black.
If required, top coats such as torque control lubricants and silicate sealants are readily available. For our clients in the high tensile fasteners and springs market, we have excellent de-embrittlement facilities on our state of the art site.
Highest of Standards
You can rest assured when you choose EC Williams as your electroplaters for your zinc nickel plating services, that we rigorously test all our plating to the highest of standards.
At the beginning of the plating process we start with the careful analysing of the plating solution by our highly trained technicians. At the end of the process, with the finished product, we conclude with the certification of the coating thickness and alloy content. This is performed by our X-Ray Fluorescence test equipment.
We combine all of this impeccable attention to detail with a flexible and competitive pricing structure. This allows for varying batch sizes and understands the needs for rapid turnaround.
Advice and Support
If you have any questions regarding our zinc nickel plating services get in touch today. We are experienced, zinc nickel plating suppliers ready to give you extensive technical advice and support.
This includes PPAP Level 3 support and IMDS information for the automotive industry.
For more information about zinc nickel plating, or the other electroplating services that we offer, please call 0121 236 2524. Alternatively, you can  email us at plating@ecwilliams.co.uk.
You can also take a look at more information on our previous blog update about Zinc Electroplating and the results you can get from it.