Silver Plating Services – For Quality You Can Rely On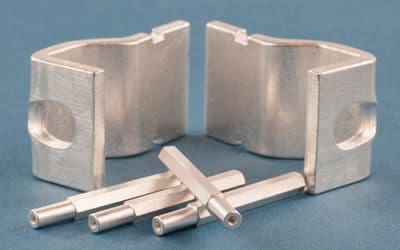 EC Williams, specialists electroplaters, offers silver plating services. We ensure that you receive the very best of our expertise gathered over 90 years. This, coupled with our extensive state of the art facilities, brings you the very best in silver plating for a wide ranging variety of components.
We Offer Support Services And Advice
Used extensively by the electrical and electro-mechanical industries, our silver plating services bring you an up to date system. In addition, it is comprised of a combination of barrel and vat processing facilities.
This plating system enables us to silver plate an extensive range of components. Everything from contacts and fasteners, through to larger pressings and castings.
We are always available to offer support services and advice should you have any queries about the silver plating process.
Silver Plating Services From EC Williams | Affordable Quality, Delivered Promptly
At EC Williams we make sure our trained silver plating technicians carefully analyse your plating solutions. This helps to ensure a consistent finish on every component from the plating process.
We have the capability to control deposits from 2 to 25 microns, which we can efficiently certify with our X Ray Fluorescence test equipment. Therefore, you can rest assured that you have received the correct deposit thickness, with the precise amount of silver required.
In addition to this meticulous attention to detail that you would expect from one of the leading silver platers, we can offer you a variety of post plating treatments.
These include anti-tarnish dips and lubricants. We have the knowledge and equipment to silver plate onto most substrates. These include copper, phosphor bronze, brass, steel and zinc die-casts.
At EC Williams, we can fulfil all your silver plating requirements in a time frame to suit you.
We understand the need for a quick and reliable turnaround. We deliver all of this for a competitive rate. Therefore, you can rely on us for an efficient and affordable silver plating service.
Discuss Your Requirements With Silver Plating Electroplaters
If you have any questions regarding our silver plating services, we have experienced, trained staff ready to give you extensive technical advice and support.
Furthermore, if you would like to discuss your requirements for silver plating, or any of our other services such as our tin plating and zinc plating please call 0121 236 2524. Alternatively, you can email us at plating@ecwilliams.co.uk.
To read about other plating services, such as Zinc Nickel Plating, you can visit our previous blog update for more info.