Electroplating Experts to many industries
Electroplating Experts to many industries
Offering Electroplating Services since 1921
Excellent support and assistance
Working with major brands such as Aston Martin, BMW and McLaren
Electroplating and Plating Finishes
Turned Parts
Having taken care to machine your turned parts carefully and accurately, the last thing you want is for them to be knocked about during the electroplating process.
Pressings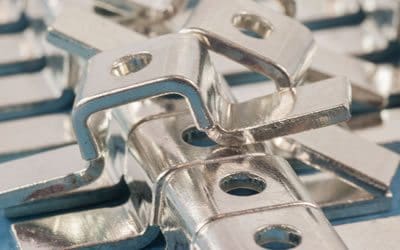 The danger with barrel plating pressings is that they may bend, or distort, during either the barrel plating process, or the spin drying afterwards. By considering the rotation speed of the barrels, as well as the forces incurred in the spin dryer, we have been able to barrel plate pressings which traditionally were jig plated.
Fasteners
The main issue with electroplating of fasteners, is the potential for damage to the external threads of fasteners. Once again, our attention to barrel rotation speeds, and the use of controllable spin driers, minimises the danger of thread damage.
EC Williams – Electroplating and Plating Finishes Experts
Our modern purpose-built factory is equipped to provide a wide range of metal finishing services. From pre-production samples, to full volume production conforming, to O.E.M, national and international standards. We offer a number of plating and metal finishing services, including zinc nickel plating.
We will also arrange packing and delivery to meet your requirements.
Our lorries serve the West Midlands. We have daily arrangements with couriers and haulage companies, for our customers in London and nationally.
Call for more information or a quote now on 0121 236 2524
Silver Plating Electrical Components – EC Williams brings you a reliably high quality service for all your silver plating electrical components.
read more