Zinc Electroplating Services | All You Need To Know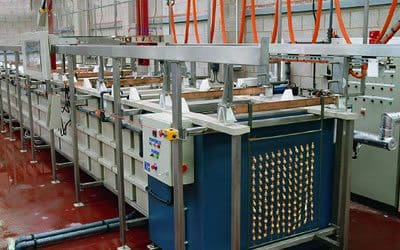 Electroplating specialists, EC Williams are proud to offer zinc electroplating services. You've possibly wondered what zinc electroplating is, and how zinc electroplating works. As leading experts in electroplating, we can answer all of these questions and more. We are a team that go the extra mile when it comes to providing you with a solution. We'll talk you through everything you need to know, to ensure you know exactly what service you'll be investing in.
Zinc Electroplating Services – How Does it Work? 
Zinc electroplating services are very popular as they they are a cost-effective solution to excellent corrosion protection.
Electroplating involves putting an object – such as a nut or bolt – into a solution (electrolyte). Then, an electric current is passed through it to a metal (zinc) anode. This causes the zinc metal to dissolve and migrate onto the negatively charged object, forming a thin zinc deposit on it.
The longer the object is left in the solution with the electric current flowing, the thicker the deposit becomes. Normally coatings of 6 – 8 microns are specified, but up to 25 microns can be deposited in this way.
Once zinc plated, it is usual to apply a chromate passivate to protect the zinc from oxidation.
Zinc Electroplating Near Me
There are several zinc plating suppliers out there, but if you're looking for a company who not only offers excellent zinc electroplating services but also a wide range of other kinds of plating, look no further than Birmingham's E.C. Williams Ltd.
The electroplating company in the West Midlands – which was founded in 1921 by Mr Williams – has changed and developed over the years. It has now become one of the UK's premiere plating and electroplating businesses.
The zinc platers provide a wide range of services (from small samples to full volume production), and they ensure that they conform to OEM standards – both national and international.
They specialise in turned plates, pressings, and fasteners which need barrel plating. The specifications they work to often require controlled deposit thicknesses, as well as achieving defined levels of corrosion resistance.
E.C Williams Ltd can help finish parts for your industry with tin plating and nickel plating too. Our rates are consistently competitive, and you can rest easy knowing you'll be receiving a quality service every time.
Contact Us Today
Get in touch with E.C. Williams today to discover the wide range of services they offer.
If you would like to find out more information about zinc electroplating services, then head to their website today. Or, call 0121 720 9497 to speak to a member of their helpful and experienced team.