A Silver Plating Company You Can Rely On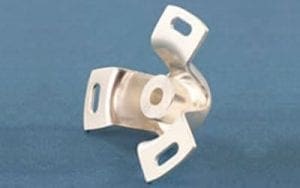 The process of silver plating electrical components is an important one, and a highly skilled one. Therefore, it must be carried out by a respectable and professional firm. When you use EC Williams for your silver plating, you will have the peace of mind to know that your plating specifications will be followed to your exact requirements. If you are looking for electroplating in Birmingham, we can help.
Bringing you quality service for silver plating electrical components
Silver plating has a range of uses both in the domestic and the industrial marketplace. EC Williams delivers consistently high-quality results across a range of industries and sectors. Our focus is predominantly in the automotive and electrical industries. We are proud to be the company responsible for silver plating electrical components in the switches. These are then used in a larger switch, which operates on the National Grid.
Why choose silver plating?
Silver is an excellent plating material. Therefore, it is used for a variety of applications, including silver plating electrical components. It is also an excellent choice when it comes to safety. Silver does not spark and it conducts electricity very well. It works effectively with both low and high currents, so it translates into both domestic and commercial uses. When you are considering the final use of the components that you are silver plating, it is sensible to understand the safety implication of using silver plate. It is important to use the correct deposit depth of silver when plating. EC Williams can control the deposit from 2 to 25 microns and test it. We can then provide certification to prove the deposit thickness.
Choosing a silver plating company
When you are choosing the company to carry out your electrical electroplating, you need to ensure that you are using a knowledgeable electroplating company. EC Williams is a West Midlands based metal finishing company. However, we have many years of experience in silver plating too. In fact, we proudly go the extra mile when it comes to fulfilling your requirements. We take the take to listen to exactly what you want and what you are looking to achieve. Then, using our experience and knowledge, we will determine the best way to meet your requirements. We always strive for a fast turnaround, competitive prices, and incredibly high standards. All of which you should expect from a leading electroplaters & metal finishers. 
Technical Advice and Support
We take pride in being a leading Birmingham plating company on hand to answer your queries. If you have any questions regarding silver plating electrical components, our staff are on hand to offer you extensive technical advice and support. To find out more about metal finishing in Birmingham, or any other metal finishing services head to our website today.
If you would like to discuss your requirements for silver plating electrical components, or any of our other plating services such as automotive electroplating, tin plating and nickel plating please call 0121 236 2524. Alternatively, you can email us at plating@ecwilliams.co.uk.
You may also like to read our previous blog on industrial silver electroplating.